Hello, I'm Candi Raudebaugh; author of Good Food Vegan. Thank you for visiting my site and taking the time to find out more about me.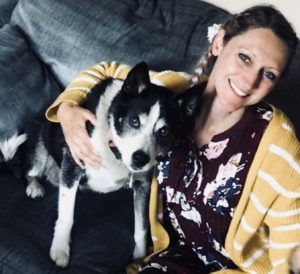 Growing up, I did not like cooking. I thought it was difficult, unenjoyable, and too girly. Eventually I realized that because I like to eat, it is advantageous to cook. I also learned that cooking does not have to be as challenging as I thought, and that adding different flavours and ingredients to create something new can be fun.

I have come to see cooking as an important life skill that many people are missing because of a lack of interest, not enough time, or a lack of experience. While not everyone may want to be a chef, all of us can benefit from having the basic skills to feed ourselves well. Good Food Vegan is a resource that I have tried to keep simple enough to be accessible to those who are busy or who may be unfamiliar with cooking, but complex enough to have new ideas for experienced cooks. Good Food Vegan aims to help regular people find ideas for meals that they can add to their repertoire so cooking can be a fun and simple way to create good food that is healthy and delicious.
Of note, my doctoral research focused on life skills in college students. Planning and preparing meals are important life skills that don't always come easily. I hope that this website can help meal preparation a bit easier and less frustrating for those who are struggling to prepare easy and quick vegan meals. Feel free to access my life skills training modules if you would like to find out more about my research and about life skills including healthy eating, managing stress, managing money, and more.
Learning a New Way of Cooking
As a new vegan, I tried new recipes in an attempt to make the same things I was accustomed to eating. Many of these recipes failed! Cooking was difficult again. It was like learning all over again how to cook and bake. Because of all the failed attempts to make good food, I was starting to feel like an incompetent cook. I had come to enjoy preparing food for my husband and myself, and now with this new vegan lifestyle, my husband was not enjoying the things I was preparing (and admittedly, neither was I).
Because of my occupational therapy training, I see things through the lens of occupation – the things a person needs and wants to do every day. Preparing meals, eating, and socializing are important occupations that can be profoundly impacted by dietary changes. My occupational therapy training helps with the concepts of meal planning, learning principles for preparing meals, and fitting lifestyle changes into the rest of one's life. I relied on my occupational therapy perspective to reteach myself the occupation of meal preparation. Through the help of many wonderful resources online and in my local library, I learned some new habits and skills. Before too long, I started to feel competent again.

About Good Food Vegan
Good Food Vegan is here to help you skip some of this frustrating and difficult trial and error, so that you can find some new meal ideas to start making good food now.

My website initially started as a private blog that I made for the purpose of cataloguing the different things I was making and keeping track of which dishes turned out. When I became vegan, I started changing the way I ate, and preparing foods that were unfamiliar. Prior to this, we had a few staple foods that we tended to eat, and were in a routine of eating meat with some other things every day. Meals centred around meat.
When I was no longer making meat, at first we were at a bit of a loss for what to eat. When I made something that we both liked, I wrote down how I made it and took a picture so I could remember to make it again. I put the information on a blog so we could use it like a menu in a restaurant if we were having trouble deciding what to eat.

Eventually I had quite a few different vegan recipes documented, and I realized that it could be helpful to make them available to others who may be going through similar challenges of not knowing what to eat or how to prepare it so it would taste good after going vegan. Good Food Vegan was born.

About Me
I am an occupational therapist and college instructor. I live with my husband and our dogs. My Christian faith is the centre of my life. I enjoy walking and hiking, I like to travel when I have the opportunity, and I enjoy being outside. Additional hobbies include writing, drawing, painting, and photography. I like technology such as computers and gadgets. I have been vegan since 2016.
More about Candi Raudebaugh
To increase her knowledge about healthy eating, Candi completed the Nutrition and Health Living certificate program at Cornell University in 2019.
In addition to this website, Candi Raudebaugh is the author and host of the Relaxation Audio with Candi podcast and author of the website relaxation-audio.com.