---
Pasta Bar
Add toppings of your choice to pasta. A variety of toppings will be available for you to choose from.
---
Pasta with Italian Seasoning
Bow-tie pasta tossed with olive oil and balsamic vinegar, dairy free Parmesan, Italian seasoning, and sauteed kale and onions.
Top with marinara sauce (made with garlic and tomatoes) and your choice of vegetables – raw avocado and raw or cooked tomatoes, peppers, onion, and shredded carrot.
---
Spaghetti with Meaty Sauce
Spaghetti topped with a rich, meaty tomato sauce.
The sauce contains onions, garlic, tomatoes, vegetable protein, and a mildly spicy blend of Italian herbs and seasonings.
---
Seasoned Pasta with Vegetables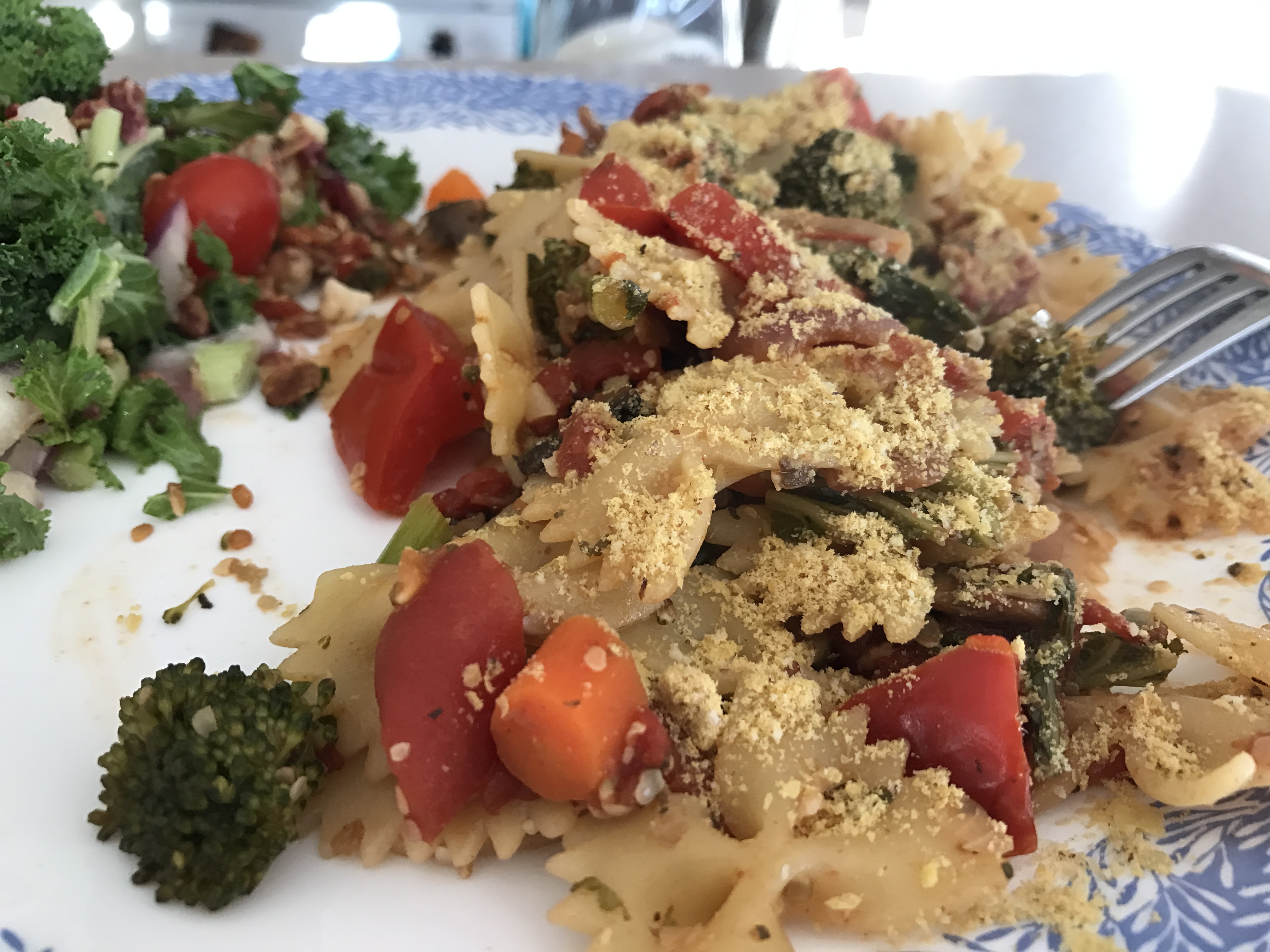 A delicious pasta with lightly sauteed vegetables and seasonings.
This pasta includes onion, carrot, red pepper, mushrooms, broccoli, kale, garlic, and diced tomatoes, seasoned with garlic seasoning, basil, oregano, Italian seasoning, hemp hearts, and nutritional yeast Parmesan.
---
Macaroni and Cheese
Pasta topped with a rich but healthy cheese sauce.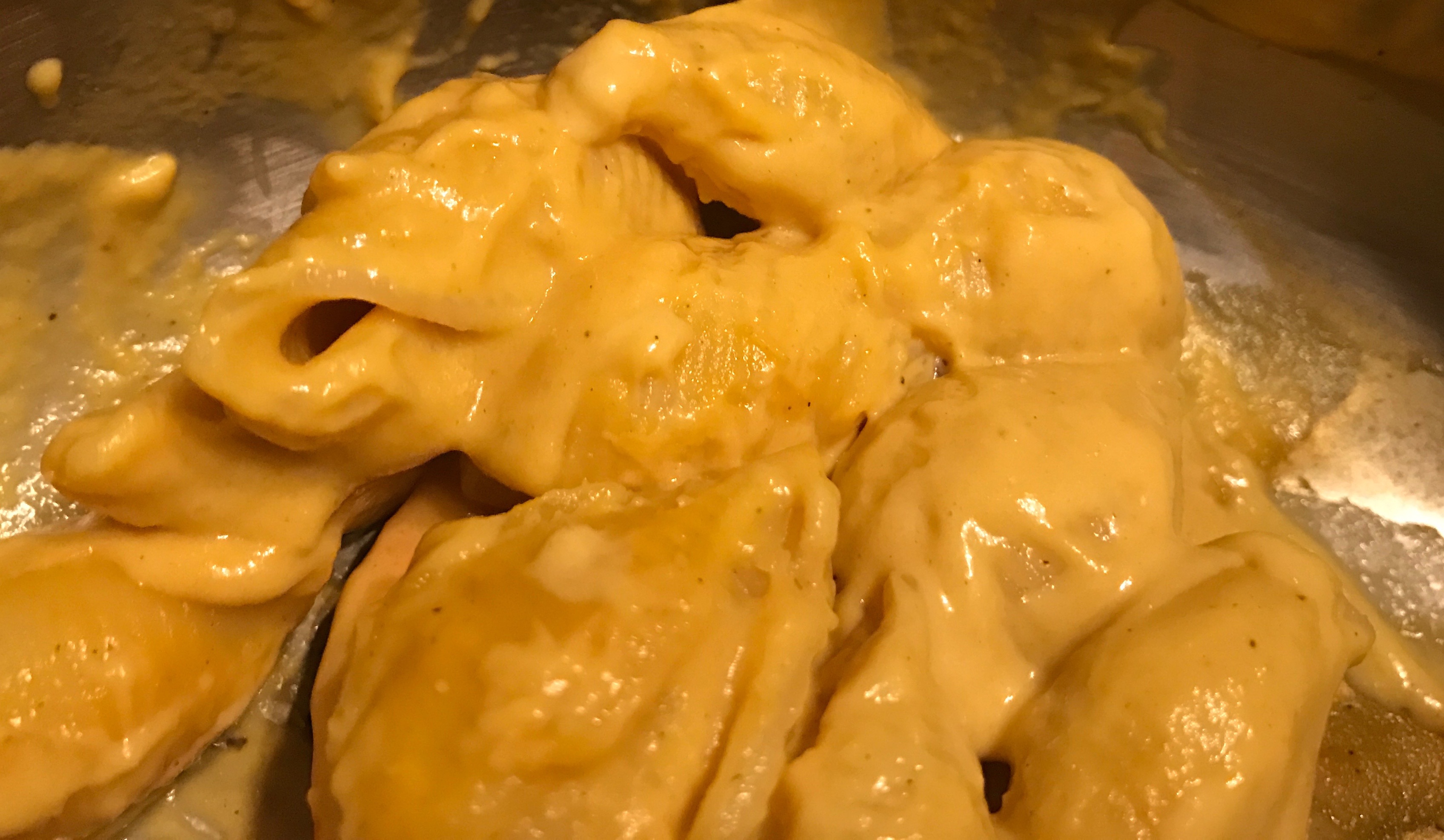 ---
Zucchini Noodles with Creamy Cashew Sauce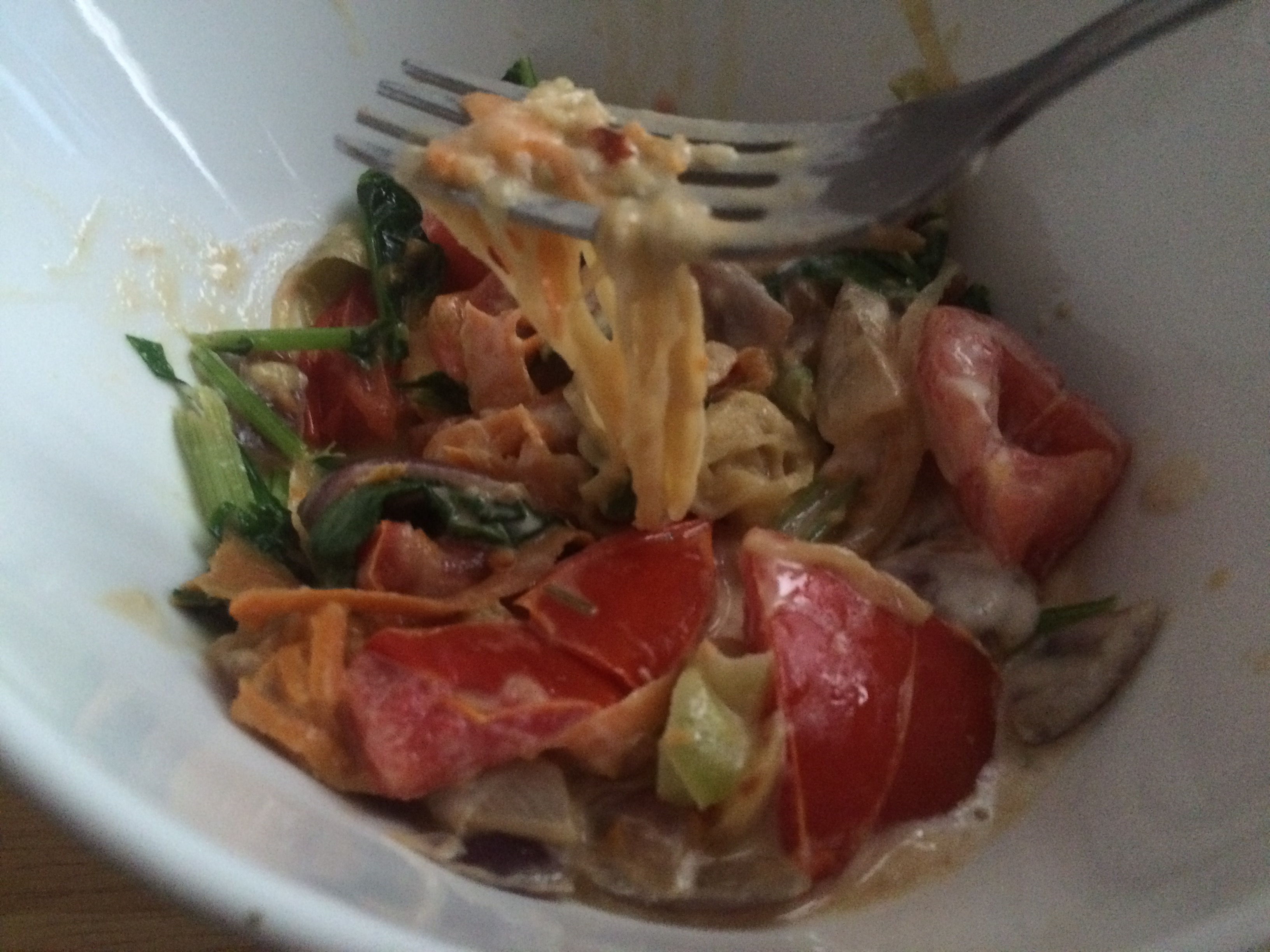 This light and healthy dish uses spiralized zucchini and sweet potato as the noodles. A variety of fresh vegetables are very lightly sauteed and added to the tender zucchini and sweet potato, including: tomato, swiss chard, garlic, onion, and kale. Topped with creamy cashew sauce.
---
Creamy Pasta with Chickpeas
A medium spicy pasta with Thai flavoring. Includes a creamy sauce with chickpeas, sweet potato cubes, and onion.
---
Lemon Garlic Pasta
Vegetables stir fried with lemon juice, lime juice, garlic, lemon pepper, dried onions and garlic, and chili powder tossed with spaghetti. Vegetables include onions, tomatoes, kale, broccoli, peppers, and carrots. Seasoned with additional lemon pepper when served.
---
Thick Crust Pizza
This pizza is made with bread dough crust, and topped with tomato sauce, a variety of vegetables (onions, peppers, sun dried tomatoes, broccoli, cauliflower, carrot), cheese sauce and cashew mozzarella cheese. Cheese sauce made with cashews, water, nutritional yeast, miso, garlic, and tapioca flour; it thickens in the oven.
---
Deep Dish Pizza
Thick, deep dish pizza with layers of mozzarella and marinara sauce.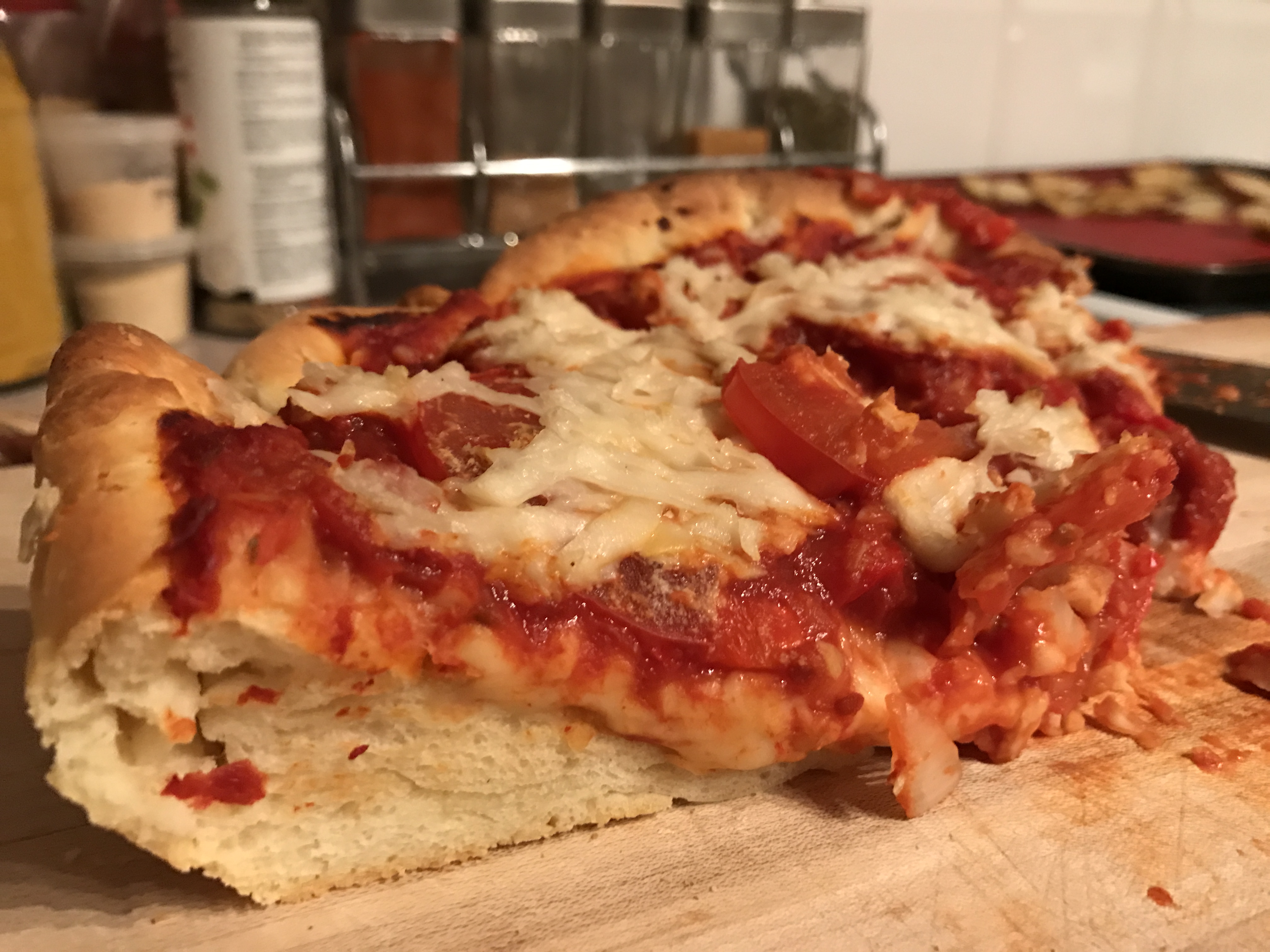 Deep dish pizza traditionally has mozzarella on the bottom, followed by toppings, and then sauce on the top. This pizza has an additional layer of mozzarella for an extra cheesy taste.
Featuring a thick, flaky crust, this pizza is topped with mozzarella, chopped red pepper and onion, sauce, tomato slices, and more mozzarella.
---
Medium Crust Pizza
Hand-tossed pizza with a medium thick crust baked with your choice of sauce and toppings. Choose from alfredo sauce, olive oil, marinara sauce, barbecue sauce, or salsa and the following topping options: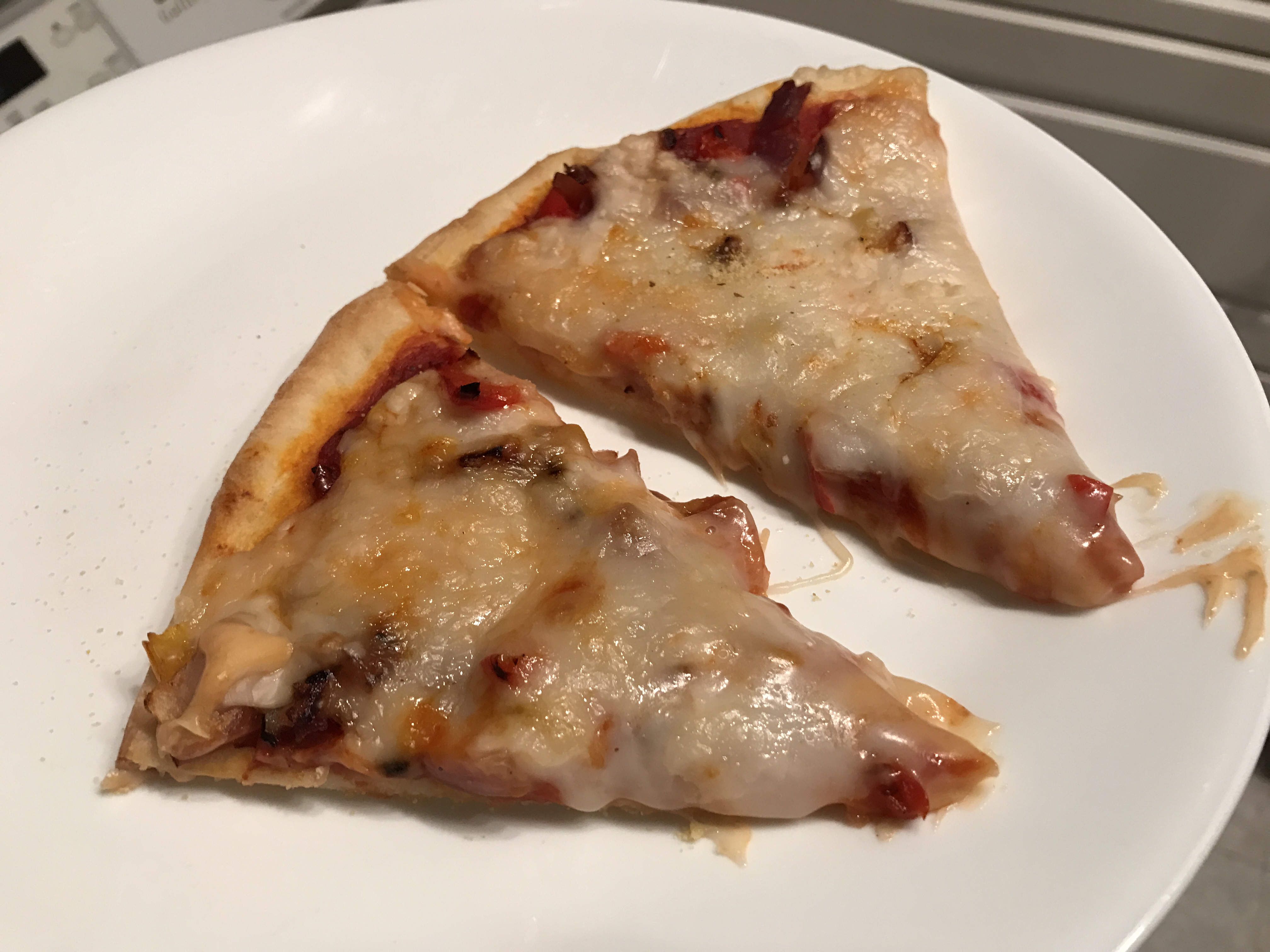 Onions
Tomato
Peppers
Kale
Spinach
Mushrooms
Taco veggie ground
Sausage
Tofu bacon
Mozzarella
Cheddar sauce
Parmesan
Spicy red pepper flakes
---
More