If you are looking for a vegan ginger beef recipe, try these ginger soy curls. They are crispy and chewy, just like your favorite meaty Chinese food.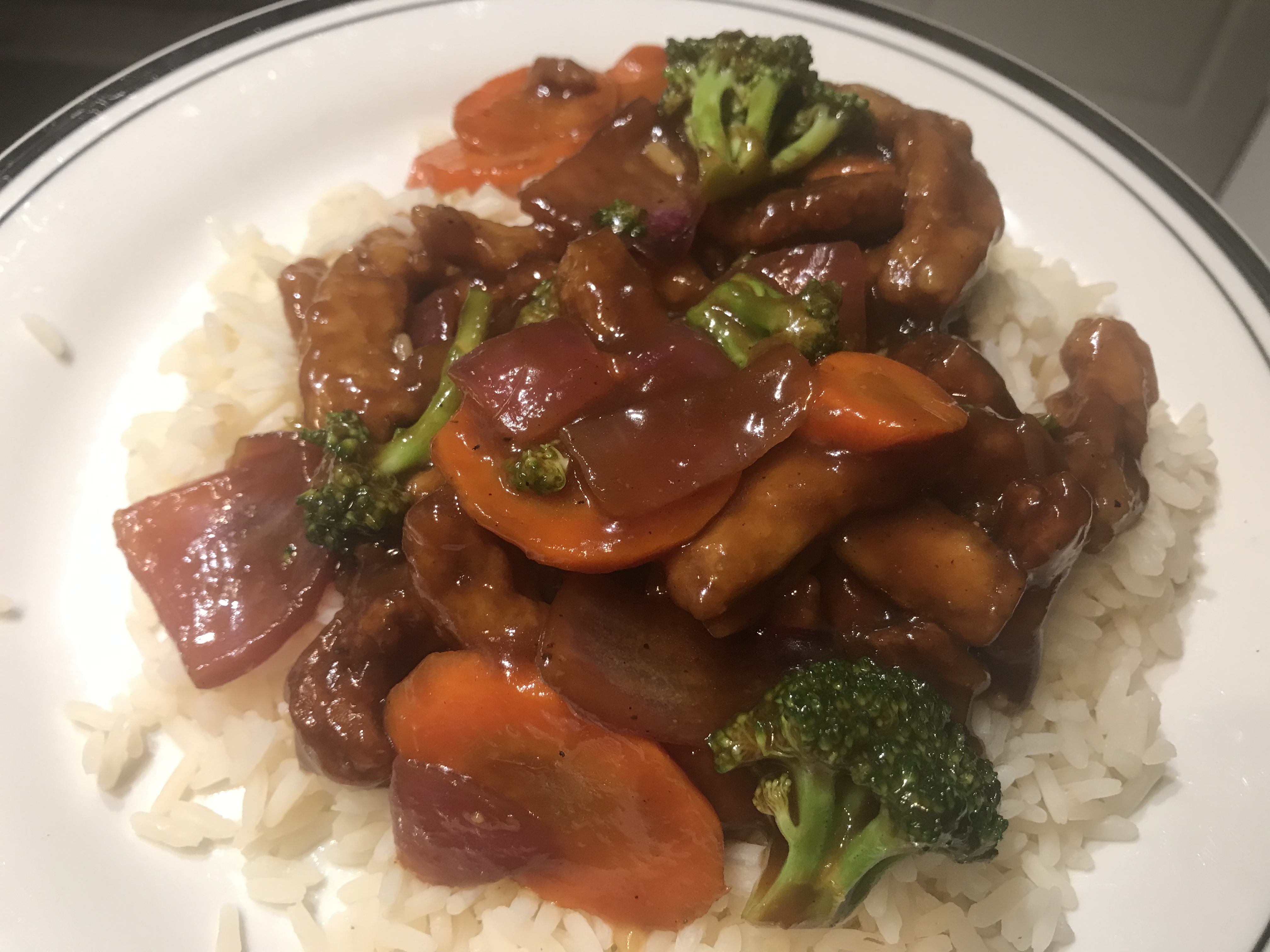 Chef's Notes
Start by adding rice to a rice cooker, and everything else can be prepared while the rice is cooking.
Ginger Soy Curls
Soy curls are easy to make. They simply need to be rehydrated and then prepared according to recipe instructions. For ginger soy curls, I chose to lightly coat the rehydrated soy curls in corn starch and then fry them. To make a healthier version, bake the soy curls in the oven instead of frying.
To rehydrate, soak the soy curls in hot vegetable broth (vegan beef broth or vegan chicken broth work well for flavor) for about 5 minutes. It is also possible to microwave soy curls and broth for 2 minutes and then let them sit for a few minutes. Use just enough broth to cover the soy curls, and stir a few times to make sure all of them hydrate evenly.
Drain the soy curls thoroughly by squeezing out excess broth. This keeps them from getting soggy and creates the perfect crispy outside and chewy inside texture when they are finished. Keep the broth to use for cooking vegetables and making the ginger sauce.
Add neutral flavored oil (such as canola oil) to a hot pan – enough to cover the bottom of the pan. A cast iron pan works well because it maintains even heat.
Put the hydrated soy curls in a bowl. Cover with corn starch and stir or toss to coat all sides. Shake off excess corn starch and add soy curls to the hot oil. Do not crowd the soy curls or allow them to touch. Cook for about a minute, flip, and fry for one more minute. The soy curls should be browned and crispy. Take the browned soy curls out of the pan and put them aside on a plate. Repeat until all the soy curls are browned.
Remove excess oil from the pan and use the hot pan to stir fry vegetables. Pictured are onions, carrots, and broccoli. Cook onions for 2 minutes. Add carrots and cook for 5 – 7 more minutes. Add broccoli and cook for 3 more minutes. Add vegetable broth as needed to keep vegetables from sticking, and then in the last 2 minutes of cooking, add about 1/2 cup of broth to steam the broccoli.
While vegetables are cooking, make the sauce by adding the following to a blender and blending until smooth. Soy sauce (1/2 cup), water (1/3 cup), rice vinegar (1/4 cup), clove of fresh garlic, 1 tbsp fresh ginger, 4 black peppercorns, 1 tbsp corn starch.
Add sauce to the pan with vegetables and stir while it heats up. Allow sauce to boil. Add soy curls and stir thoroughly, and then serve the ginger soy curls and vegetables over rice.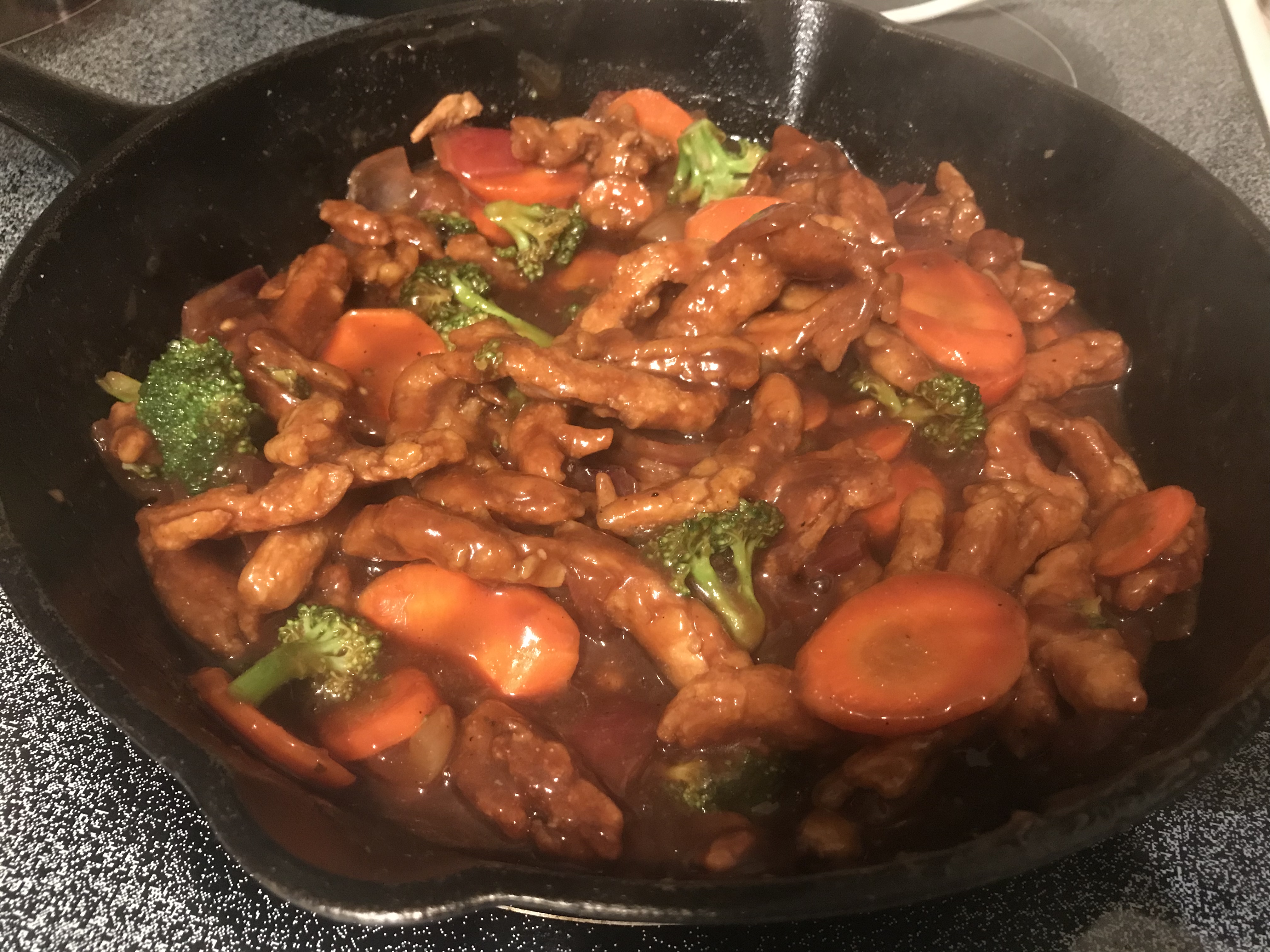 The ginger soy curls can also be added to a salad for a nice flavor and texture, and no need for salad dressing. Take a few soy curls directly from the stir fry And add them to lettuce, diced onions, and any other vegetables you like to make a quick ginger salad, pictured here.