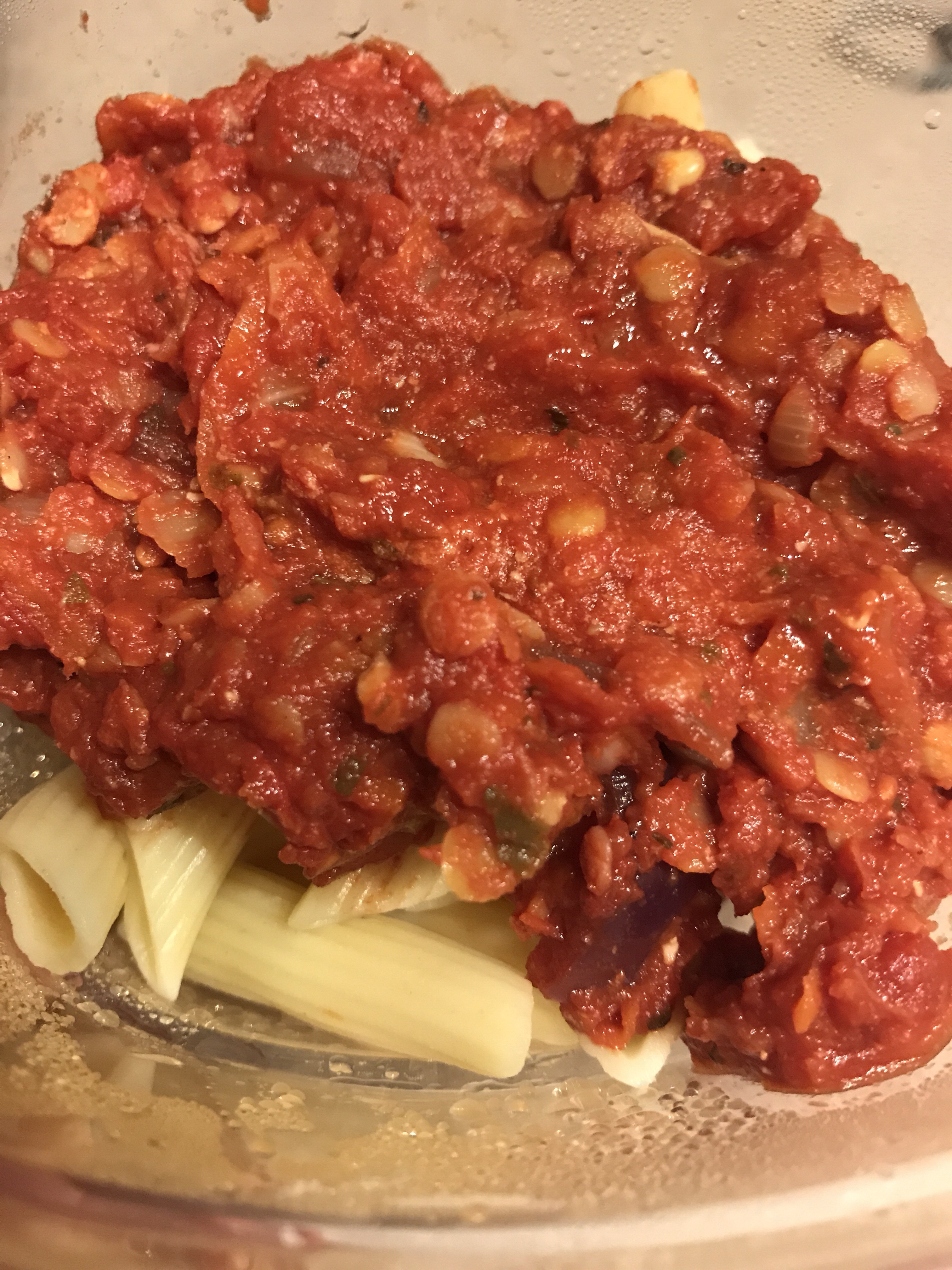 Lentil bolognese sauce is quick, versatile, and meaty. It is a hearty sauce that will satisfy vegans and non-vegans.
There are a number of variations for this recipe.Two options for making this sauce are featured in the recipe below. The quickest version is the red lentil and carrot sauce. Version 2 is an equally delicious and hearty sauce made with lentils and mashed chickpeas.
To make the quickest version, use canned chickpeas (mash or mince them in a food processor first) and/or red lentils, which cook very quickly. Alternatively, cook brown or green lentils for about 25 minutes and then add them to create this lentil bolognese sauce.
Another option is to add a variety of vegetables. Carrots, peppers, spinach, kale, squash, and parsnips are delicious options. Mince vegetables very fine to add bulk and texture while adding extra vegetables. This can be a way to hide extra vegetables if you are cooking for picky eaters.
To make the carrot and lentil version of this sauce, stir fry onions and shredded carrot while cooking red lentils. Add seasonings (minced fresh garlic, cumin, oregano, marjoram, basil, garlic powder, onion powder, dried onions, chilli powder, paprika, nutritional yeast).
Add the lentils once they are cooked, plus diced tomatoes (drained) and crushed tomatoes. This carrot and red lentil version is quick to make and very tasty.
Bolognese sauce is good on pasta or pizza. Some may find it too thick and textured for pizza, so a regular marinara sauce may be preferred. Spaghetti with veggie meatballs and lentil bolognese sauce is a perfect recipe for this sauce.
To make a low-sodium sauce, used canned diced tomatoes with no salt added. Also, use canned crushed tomatoes instead of tomato sauce. Crushed tomatoes and tomato sauce have a very similar texture and taste, but crushed tomatoes have far less salt. With the garlic and onion in this sauce, you will not miss the salt. The bolognese sauce still tastes rich and delicious.
Lentil Bolognese Tomato Sauce
Lentil bolognese tomato sauce is a thick, meaty sauce made with lentils. Excellent over all kinds of pasta.
Ingredients
1

Red onion

2

cloves

Garlic

1

can

Diced tomatoes, no salt added

Or 3 - 4 fresh tomatoes, diced.

1

can

Crushed tomatoes
Lentil and chickpea mixture (option 1)
1/4

cup

Cooked red lentils

1/4

cup

Cooked green lentils

1/4

cup

Cooked chickpeas
Lentil and carrot mixture (option 2)
1/4

cup

Uncooked red lentils

1/2

cup

Grated carrot
Spices and seasonings
1/2

tsp

Oregano

1/2

tsp

Basil

1/4

tsp

Thyme

1/4

tsp

Cumin

1/2

tps

Onion powder

1

tsp

Onion flakes

1/2

tsp

Garlic powder

1/4

tsp

Chili powder
Instructions
Dice onions. Sauté onions until starting to brown. Add crushed garlic and sauté for a minute or two more. If making the lentil and carrot option, stir fry onions and shredded carrot while cooking red lentils in boiling water in a separate pot.

Add diced tomatoes and crushed tomatoes.

For lentil and chickpea option 1: Add cooked red lentils and cooked green lentils. Mash chickpeas or mince in a food processor until they reach a coarsely chopped texture. Add the minced chickpeas to the sauce.

For lentil and carrot option 2: Add red lentils once they are cooked.

Add spices: oregano, basil, thyme, cumin, onion powder, onion flakes, garlic powder, chili powder if desired.

Simmer the sauce while preparing pasta. Once pasta is ready and sauce has boiled for about 10 minutes, it is ready to serve.
Notes
Add diced tomatoes and crushed tomatoes (use canned, 'no salt added' tomatoes for a low sodium sauce). Crushed tomatoes have less salt than tomato sauce but provide a similar flavour and texture.