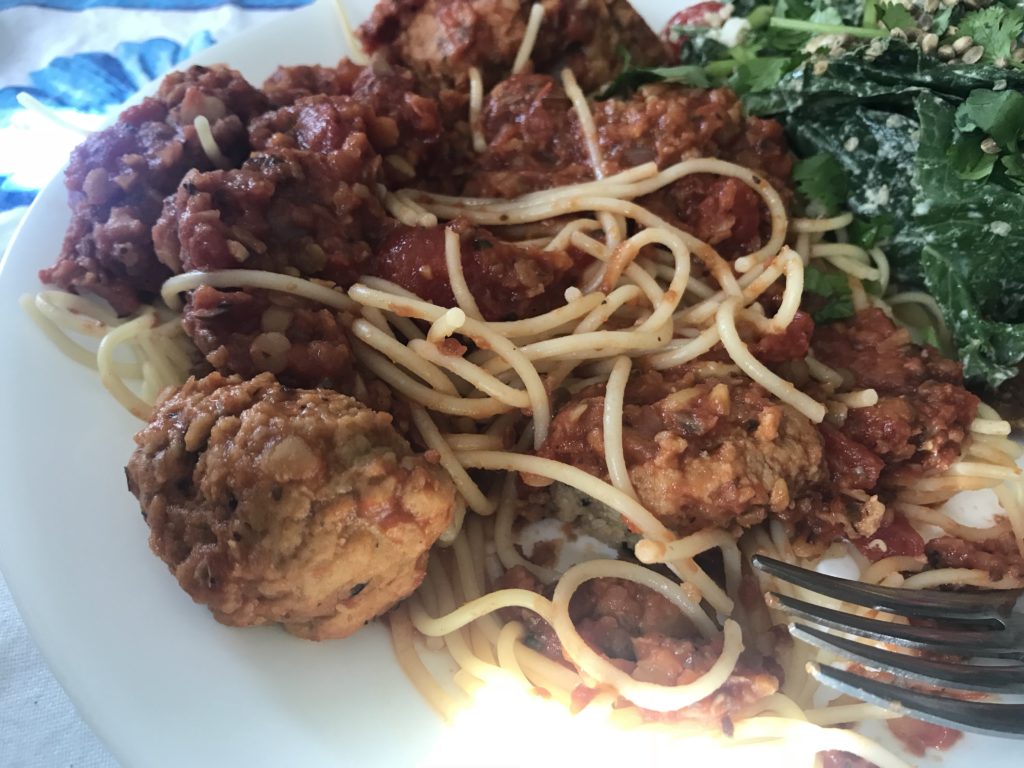 Spaghetti with lentil bolognese and veggie meatballs is a flavourful and filling main dish. These veggie meatballs are flavourful and have an excellent meaty texture. They hold their shape, even when cooked in sauce or reheated. The lentil bolognese sauce is thick and meaty, low in sodium, and very tasty. This pasta is hearty and filling main dish that is satisfying for vegans and non-vegans.
Meatballs inspired by the "Seitan Meatballs" recipe from The Gentle Chef Cookbook.
Lentil Bolognese Tomato Sauce:
Sautée onions until starting to brown. Add garlic and sautée for a minute or two more.
Add diced tomatoes and crushed tomatoes (use canned, 'no salt added' tomatoes for a low sodium sauce).
Mash chickpeas or mince them in a food processor. Add cooked red lentils, green lentils, and mashed chickpeas.
Add spices: oregano, basil, thyme, cumin, onion powder, onion flakes, garlic powder, chili powder if desired.
Simmer the sauce while preparing pasta.
See lentil bolognese sauce recipe for detailed instructions.
Vegan Meatballs:
You can prepare these a day in advance. Cook them by steaming, refrigerate over night, then heat in a frying pan to brown on all sides before adding lentil bolognese sauce.
Here are the ingredients I used:
Vital wheat gluten
Chickpea flour
Veggie broth
Nutritional yeast
Oregano
Basil
Thyme
Marjoram
Onion flakes
Garlic powder
Red pepper flakes
Black pepper
Dried mushroom powder (blend a dehydrated shiitake mushroom in the dry grains container of a Vitamix).
The Gentle Chef cookbook provides recipes and instructions for vegan meatballs, and I highly recommend this book for a meatball recipe and various other delicious vegan recipes.